Website design and development - Book Arsenal
website for biggest Cultural Event and Book Fair in Ukraine
book.artarsenal.in.ua
Date: 2021
Country: Ukraine
Industry: culture, online event, biggest book fair, book industry
In cooperation with: Book Arsenal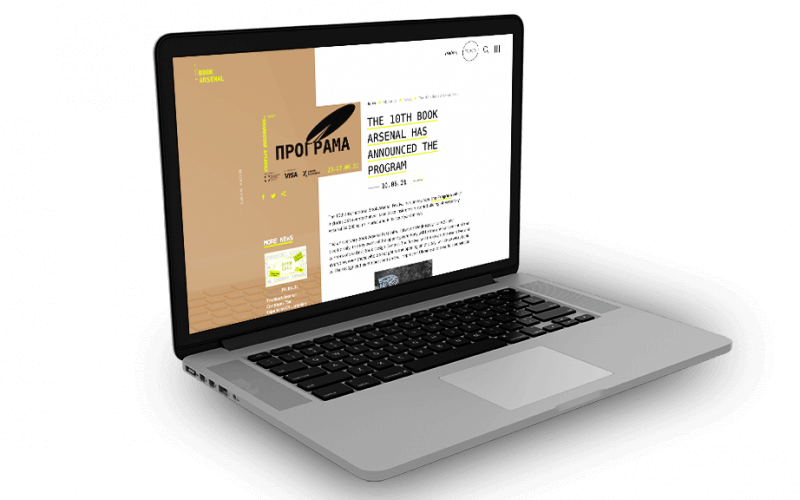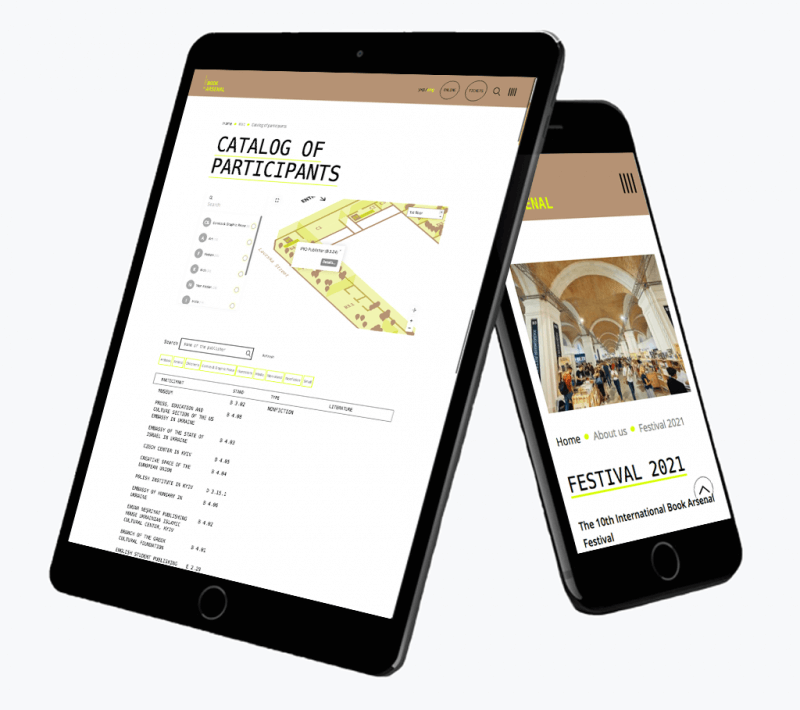 Project goals:
The design of the website should correspond to the general identity of the festival and the museum.
The site should be adapted for broadcasts, teleconferences and experimental online formats.
The structure of the website should support the ability to create a tree of sections, subsections, subcategories with the ability to add static and dynamic pages.
The software must ensure the operation of the system 24 hours a day, 7 days a week, 365 days a year.
The website must be responsive - adapt the content and functionality to different mobile devices according to the characteristics of the users of these devices.
The content management system should provide processes for managing the content of the site by separating the functions and access rights of different user groups and their roles.
Creating an online cabinet of the Festival Participant for registration and adding information.
Goals achieved:
In collaboration with the Book Arsenal team, a modern, lightweight design was created that corresponds to the identity of the festival.
Implemented a convenient and secure content management system based on WordPress CMS.
9 sections with well-thought-out logic and convenient location of the content.
The functionality of registration of volunteers, partners, accreditation of mass media interested in passing professional programs is created.
Convenient schedule of events of the Book Arsenal 2021 with the ability to search and filter by days, categories, scenes.
Implemented the functionality of adding events to Google Calendar, adding to favorites and sending them to the user's mail for easy storage.
The schedule of events implements different types of online events: broadcast with the support of megogo, stream events, broadcast by the organizers from the youtube channel, showing events in the recording.
The Guests, Curatorial Programs and Special Projects blocks implement event-related functionality with the ability to add them to favorites or Google Calendar and, accordingly, create your own list of programs to visit the Book Arsenal.
Tickets - programmed functionality with day and time slots and redirection to buy tickets online.
Beautiful and functional online map of the Book Arsenal with the exact location of the participant and the ability to go to the page of the Festival Participant with detailed information about the Participant.
The participant's online cabinet where the participant can add and change his own information, add 5 new books they present at the festival.
Events with the participation of the Festival Participant are displayed on the Festival Participant page.
The site is completely bilingual: Ukrainian and English.